2022 Caron Greater Philadelphia Gala
Tuesday, November 1st 5:00 PM - 9:30 PM | Kimmel Center for the Performing Arts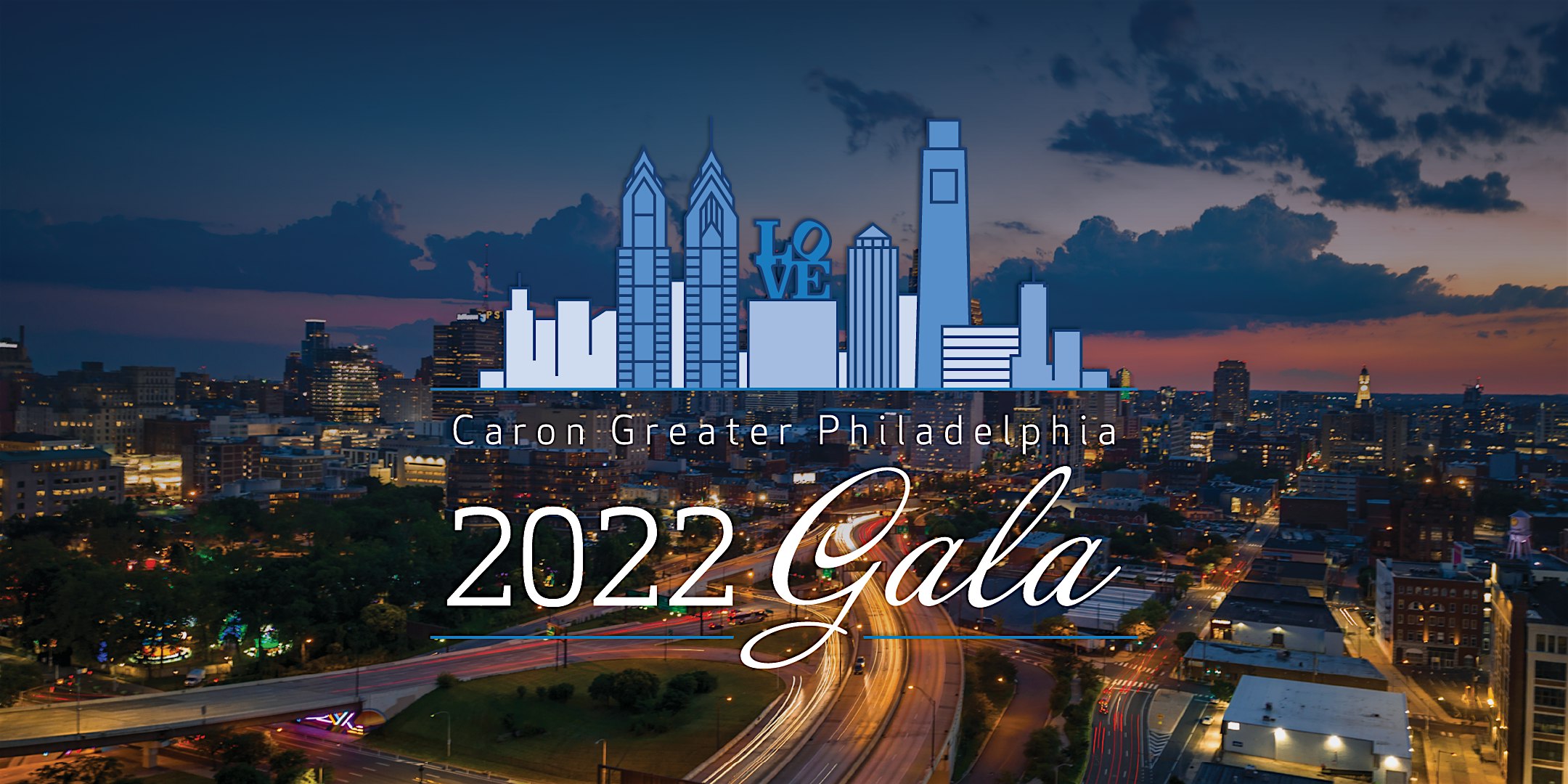 IMPORTANT EVENT UPDATES
The Gala will now start at 5:00 PM! We've moved this up by 30 minutes to "catch" the first pitch of Game 4 of the World Series.
Award ceremony to honor the Forst Family begins at 7:00 PM.
Phillies Watch Party! Enjoy delicious desserts while watching Game 4 from 8:00-9:30 PM in the atrium of the Kimmel Center for the Performing Arts. The Gala will end as planned at 9:30 PM.
It is not too late to buy tickets to the 2022 Greater Philadelphia Gala!
Please visit our online auction website – https://one.bidpal.net/caronauction to bid on amazing auction items. Auction items will be added daily until bidding closes on November 1st at 9:00 PM. Everyone is invited to bid - you do not need to attend the Gala to win!
Caron's mission is to transform lives impacted by drug and alcohol addiction through proven, evidence-based, comprehensive, and personalized behavioral healthcare. Caron believes that everyone deserves an opportunity to access our care. Last year, with the help of our generous donors, Caron provided nearly 2.3 million dollars in financial assistance to those seeking treatment from the Greater Philadelphia Region. The gala supports our scholarship program to increase access to treatment as well as for programmatic support to significantly increase recovery outcomes.
Our Greater Philadelphia Gala will celebrate recovery and family, provide hope and inspiration, and connect our Caron community. We hope you will join us to hear stories of strength and courage, and enjoy an evening of fellowship, food, entertainment, and an awards program to recognize all those in recovery.
Honoring The Forst Family with the Richard J. Caron Excellence Award
The Forst Family was selected for demonstrating the same spirit of caring and compassion exemplified by Caron's founders Dick and Catherine Caron, and for their ongoing support of Caron's mission.
Ways to Give
Purchase event tickets below or by clicking on Register Today.
Mail a check (indicate if it is for tickets, sponsorship, or a donation) payable to Caron Treatment Centers: Attn: Caron Development Office, 120 Stayman Drive, North Wales, PA 19454
For more information, please contact Patty Poach at 267-625-3855 or ppoach@albrechtevents.com.
Event Chairs
Rev. Dr. Lorina Marshall-Blake
Christopher J. Maguire
2022 Gala Committee
Kathy Albanese, Ashley Albrecht, Scott Barnes, Sherri Belkoff, Randi Blumenthal Joseph, Richard Cutler, DMD, Linda Caron Denby, Mark Duffy, Bill Dugdale, Jordan Fox, Esq., Aaron Greenfield, Kristen Harootunian, Spencer Holm, Eleanor Bradley Huyett, Esq., Jim McManus, George Meldrum, Marcella Pettorossi, Patty Poach, Ginny Rexon, Marguerite Schroeder, Esq., Brett Tiagwad, Michael Tornvall
Special Thanks to Our Sponsors
Presenting Sponsors

Recovery for Life Sponsor
Champion Sponsors
1660 Foundation
The Forst Family
The Wall/Uebler Family
Celebration Sponsors
The Dodds Family
Joan & Dan Hilferty
The von Seldeneck Family
Event Sponsors
Lincoln Investment Planning
Morgan Lewis
NSM Insurance Group
Chairman Sponsor
Platinum Sponsors
The DeSanto Family
The Forst Foundation
Gold Sponsors
Capital Advisers Ltd.
Diversified Search Group
Christopher & Ellen Maguire
New Mountain Capital
John & Charlene Roberts
Diamond Sponsors
Sherri and Larry Belkoff
Tony & Elaine Grillo
Danny's House
Dan & Ellen Huyett
Duane Morris
Elevated Angles
Randi, Jon, Tyler, Tavi and Bari Joseph
Todd & Sharon Peters
Marcella Pettorossi
Marguerite Schroeder
Kaplin Stewart
Printing Sponsor
American Solutions for Business
Date & Time
Tuesday, November 1st 5:00 PM - 9:30 PM
Location
Kimmel Center for the Performing Arts
300 South Broad Street
Philadelphia, PA 19102