Caron Treatment Center's 2020 New York Virtual Gala
Tuesday, September 29th 6:00 PM - 7:00 PM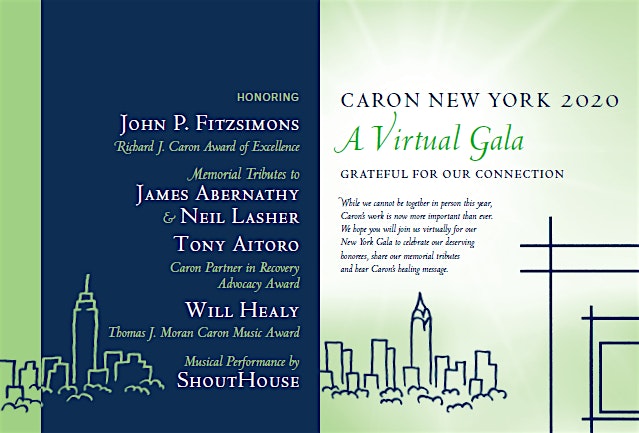 Over the years we have raised over $20 million for treatment scholarships to help addicted individuals and their families with limited resources from the New York region. Our goal for September 29th is to not only celebrate addiction recovery and raise funds for Caron but also to introduce Caron and its special services to new friends. Your participation will help us achieve these goals and we hope you will join us for an incredible evening, featuring a live and silent auction and an amazing music performance.
Honoring:
John P. Fitzsimons Chairman
Caron New York Advisory Board
RICHARD J. CARON AWARD OF EXCELLENCE
John is a lifelong New Yorker. He attended Power Memorial Academy High School in Manhattan, graduated from Iona College and has lived in Rockville Centre, Long Island for over forty years. He grew up in a large family of Irish heritage and learned early in life the love and value of family. John feels fortunate to have stayed close to his immediate and extended family and to have developed many great friendships throughout his life. He is a proud and grateful husband, father, and grandfather. John enjoyed an over forty-year career in finance working at Bankers Trust Company, Reliance Insurance Company, Evercore Partners and at American Securities Partners. Among his career highlights, he helped establish two private equity funds totaling one billion dollars investing in companies experiencing financial and/or operational difficulties. John has been active in his community including serving on the St. Agnes Cathedral School Board and on the St. Agnes parish advisory council. For ten years he coached each of his three children's basketball teams and served on the parish Catholic Youth Organization Board. John became familiar with Caron after his son completed its rehabilitation program. He has been an active member of the Caron NY Board for ten years, the last eight as its chairman. He currently serves on the Caron Corporate Board and has been involved as a member of the Executive Committee, the Compensation Committee and the Development Committee where he was past chairman. John is committed to helping those suffering from addiction as well as their families and friends and in that regard helped organize the Caron Nassau County parent and family weekly meetings. So many helped his son and family in their journey that John felt the least he could do was help others
Memorial Dedication to
James Abernathy (1941–2019)
Jim Abernathy devoted his sober life to helping untold numbers of individuals and families begin lives of recovery from chemical dependency. His selfless commitment of time, talent and personal resources to help those struggling with the disease of addiction was remarkable. His record of volunteer service to Caron spans four decades. He chaired Caron's Board of Trustees in the late '80s and early '90s – a period of growth and outreach. He was a leader in the project that introduced Caron's treatment model to the former Soviet Union and his humanitarian efforts helped advance the recovery movement in Cuba. Jim was the catalyst for bringing Caron to New York City and was Caron's first New York Award of Excellence recipient at the inaugural Gala at the Waldorf Astoria in 1995. He is fondly referred to as Caron New York's founding father and will be missed by all whose lives he touched. Jim's wife, Kevin, has established the James Abernathy Endowed Scholarship Fund in his honor.
Memorial Dedication to
Neil Lasher (1946-2020)
In addition to Neil's triumphs in a music business career that spanned over three decades, he was also an Interventionist and an integral part of the Caron New York family. His role as both a Business Development Consultant and as a Co-Chair of the New York Gala, saw him thrive in what he loved doing most… giving back and helping others. His tireless, selfless and genuine commitment to making a difference and improving the lives of countless people is immeasurable. Neil lived a sober life for more than 30 years and was a lifeline to many struggling with addiction in the music community. In 1997 he helped MusiCares establish their Safe Harbor Rooms, a sober space backstage to those in need of a supportive drug and alcohol-free environment, which ran annually during Grammy week. These sober spaces have since become common place at music festivals nationwide. Neil was truly loved by so many and will be missed but never forgotten. "Our gratitude for Neil's advocacy for helping Caron and the many individual lives he has impacted is, in his words – off the charts." Doug Tieman, CEO & President, Caron Treatment Centers
Tony Aitoro
Cooking for Caron
PARTNER IN RECOVERY ADVOCACY AWARD
Tony ("Tony A") Aitoro is the President and Chief Executive Officer of Aitoro Appliance, a fourth generation family owned and operated appliance retailer, located in Fairfield County, Connecticut. For over 70 years, the award-winning Aitoro Appliance offers the most in-demand brand names in appliances and home products. The company has built a sterling reputation on its dedication to offering the very best in customer service. Tony is not only dedicated to his business but is equally dedicated to his philanthropic work. From serving on the Boards of various organizations to hosting area fundraisers at the store, he always finds the time to give back to his community. Tony generously hosted the inaugural "Cooking for Caron" event at his 12,000 square foot showroom. The purpose of this Recovery Celebration was to raise funds to help adolescent substance abusers access Caron's treatment. Tony and his team procured a variety of local gourmands to provide hors d'oeuvres in Aitoro's eight live working kitchens to our guests. Over the last 12 years, this event has raised over $400,000 and made a significant difference for many families in southwestern Connecticut. Tony is well known throughout the community for his celebration of people, culture, values, and his optimistic vision and we are very grateful to have Tony as a partner, friend, and supporter of Caron New York.
Will Healy & ShoutHouse
THOMAS J. MORAN CARON MUSIC AWARD
Will Healy is a composer and pianist based in New York. Healy has a passion for both new and old music, particularly the works of J. S. Bach, with a repertoire that includes the complete Goldberg Variations and Well-Tempered Clavier. Healy studied composition at The Juilliard School, where his primary teachers were Samuel Adler, John Corigliano, and Steven Stucky. His recent awards include a Charles Ives Scholarship from the American Academy of Arts and Letters, two ASCAP Morton Gould Awards, the W.K. Rose Fellowship, and a J-Fund commission. He is currently the artistic director of ShoutHouse, a collective of artists from diverse genre backgrounds. They have performed at Lincoln Center, The Kennedy Center, Le Poisson Rouge, National Sawdust, The Juilliard School, Harlem Arts Festival, and more. Their debut full-length album, Cityscapes, released on New Amsterdam Records in June 2019, was the recipient of an ASCAP Morton Gould award and said to be "teeming with vitality and bursting with energy" (Textura). ShoutHouse's music has been featured on radio shows around the world, including on WNYC's "New Sounds" with John Schaefer and WBAI's "Making Music" with Jordan Maclean.
Musical Performance by
ShoutHouse
For More Information Contact:
Todd Whitmer: 717-371-1340 or TWhitmer@caron.org
Buckley Hall Events: 914-579-1000 or caronnygala@buckleyhallevents.com
Join us for the Caron NY Virtual Gala on September 29th via Auction Harmony platform, click here to learn more. Simply create an account to view our vignettes, auction and much more!
Give by Mail
If you are making a donation by mail, please make your check payable to Caron and mail to:
Attn: Caron Development Office
243 N. Galen Hall Rd.
Wernersville, PA 19565
Give by Phone
If you want to make a donation by phone, please call Kelsey Hunsicker in our Development Office at 610-743-6193.
Date & Time
Tuesday, September 29th 6:00 PM - 7:00 PM