DC Region Caron Gratitude Breakfast
Saturday, September 17th 9:00 AM - 11:00 AM | Maggiano's Little Italy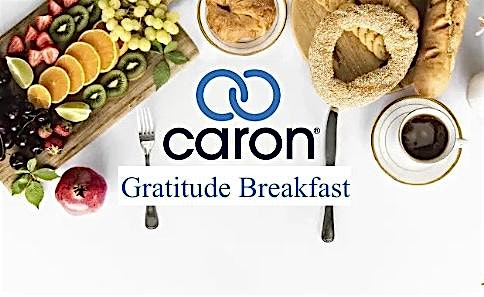 Join us for food, fun, fellowship, giveaways, music from alumni, parent and alumni stories for hope at the Gratitude Breakfast. We will have a guest speaker Martha Rackets.
Presenter:
Martha Rackets, LMFT, Ph.D. is our guest speaker. She is the Executive Director of Encore Outpatient Services, a Caron and Maryland Addiction Recovery Center (MARC) partnership. She holds a Ph.D. in Family Science and M.S. in Marriage and Family Therapy from the University of Kentucky, in addition to dual B.S. degrees in Human Development and Sociology from Virginia Tech. She is a Licensed Marriage and Family Therapist in Virginia and Maryland, a board-approved supervisor, and an AAMFT Clinical Fellow. She also has graduate certificates in Applied Statistics and Leadership Skills from the University of Kentucky and is pursuing an advanced certificate in leadership from AAMFT. Martha brings more than a decade of experience in behavioral health across multiple populations and levels of care as a clinician, director, and executive. Previous leadership experience includes working as a Clinical Director at a combined detox, residential, PHP, IOP, and outpatient facility specializing in first responder mental health, substance abuse, and PTSD treatment in partnership with the International Association of Firefighters. Martha also served as the Executive Director at an addiction treatment company that provided a full continuum of services across multiple sites in Northern Virginia including residential, PHP, IOP, OP, and sober living.
For questions or more information, please reach out to Marguerite Kelly at mkelly@caron.org.
Date & Time
Saturday, September 17th 9:00 AM - 11:00 AM
Location
Maggiano's Little Italy
2001 International Drive
McLean, VA 22042